Centralize Your Management
Social Media, Reputation,
Before & After Gallery
Your Practice's Reputation is Everything
Take advantage of our powerful Swell Integration to boost patient reviews,
patient loyalty, and your practice's reputation. 
Deploy patient surveys

Automate review campaigns

Save staff time & increase operational efficiency

Gather more five-star Google reviews to drive revenue & increase conversion

Take advantage today by reaching out to our expert team
to schedule your RxMarketing + Social Integration Demo Today!
Benefits of the new Canva Integration include:
Access of Enterprise level of Support

Pre-built social media templates, updated by season

Access to all Canva elements plus unlimited storage

Content calendar & scheduling


RxPhoto integration to seamlessly pull before & after photos right into Canva

AestheticNow integration
Reach out to us today to schedule your complimentary demo of our newest RxMarketing + Social Integration Offering to boost your
social media presence and marketing ROI.
Did you know 4 out of 5 patients view a practice's before & after gallery
before undergoing a treatment?
Instantly show off results on your RxMarketing website with an effortless connection to your RxPhoto app.
RxGallery Benefits:

Multiple Styles: Switch between templates to choose your style

Your Branding: RxGallery uses your WordPress theme to match color, fonts and other elements

Secure Control: Select images with active consent forms to push to the site from RxPhoto
Set & Forget: Once set up, your gallery publishes the images & text you choose right from RxPhoto

Take advantage of RxGallery today by reaching out to our expert team to schedule your RxMarketing + Social Integration Demo!
Modern Marketing That Gets Results
Patient-Centered Strategy
All marketing will be tailored to your practice with the intent of making meaningful connections with new and existing clients at every stage of the patient journey.
Maximize Exposure
Your website and social media will be built, coded and designed by top marketing experts who understand how to capture quality traffic that converts.
Custom Content
Content is king in the digital age. All content created by RxMarketing is written exclusively for your practice and targeted to reach your specific audience.
Reliable Expertise
Our team of experts is dedicated to supporting your practice with impactful digital marketing, top-notch service and consulting.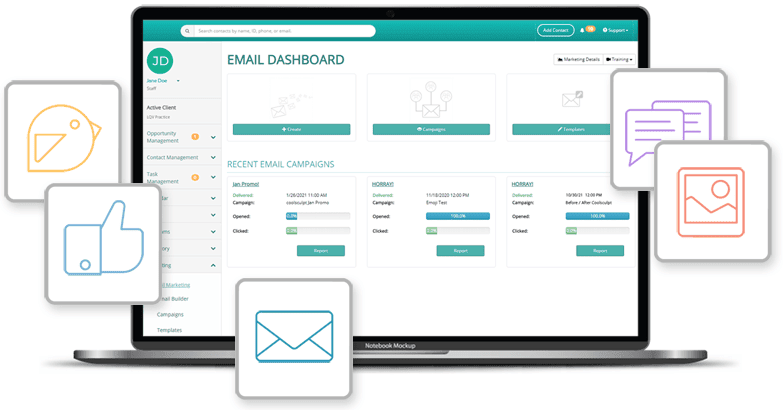 Done-For-You Marketing Solutions
RxMarketing: WEBSITE DESIGN
Make a Stunning First Impression
Amplify Your Brand
Elevate your clinic's online presence with a custom website that attracts a constant flow of patients to your practice.
Our web developers will design a mobile-responsive site for your practice that can be viewed on any device. Custom content will be written by professional copywriters and tailored to promote the services your practice provides.
Also included is social media integration, a blog with regularly updated content and a page for special offers. Your site will be search engine optimized and hosted on a secure, reliable server, so it will always be up and running.
Show Off Your Results
Before & After Gallery
The Gallery is a WordPress plug-in that runs in an RxMarketing website (or from a simple landing page) that highlights your high quality work. Approve images when you have consent, and images are added to your online gallery and displayed in one of the professionally designed templates you choose. The Gallery draws in your site's brand including fonts, colors and styles for a seamless look within your site.
Don't Miss a Single Prospect
75% of prospects won't select a clinic that doesn't have a before and after gallery. Gallery with its integration to RxPhoto instantly solves this problem. As photos are approved in the RxPhoto app, they appear live in your online Gallery.
Top Industry App
RxPhoto is the premier aesthetic clinic photography app for your Apple or Google mobile devices. For years, RxPhoto has set the standard for documenting clinical results in the most intuitive app available. RxPhoto is bundled with your RxMarketing package and has multiple integrations in our software to add the power of images to all aspects of your business promotion.
Beyond the Gallery
In addition to feeding your before and after gallery, RxPhoto is also integrated with our Canva module. Use approved patient images in your social media posts for impactful messages that are completely unique to your clinic. Approved images appear right in your Canva library for drag and drop post creation.
Optimize & Market Your Website on Search Engines
Achieve Optimal Results
RxMarketing will use a variety of SEO techniques to optimize your website for search engines. This will help people find your website when they search Google, Bing or Yahoo for treatments and procedures your practice offers. SEO is a great long-term strategy that takes time to yield significant results.
SEM, on the other hand, is a powerful tool to generate traffic to your website much faster. SEM is a form of paid marketing, which allows you to increase your website's visibility on search engine results pages when people search for specific keywords.
RxMarketing: CONTENT MARKETING
Educate & Influence Your Audience With Strategic Content
Words Matter
Our content team will not only craft custom content to describe your services and position your practice as a leading provider in your community, we will also write unique, monthly blog articles related to your industry and treatments you provide.
A strong content strategy will enhance your web presence on search engines and help you stand out from your competitors. When you partner with RxMarketing, your website will feature valuable content that draws in potential patients, educates and influences them to schedule a consultation.
RxMarketing: SOCIAL MEDIA
Build a Following to Maximize Brand Awareness
Engage Your Audience
Leveraging social media channels, like Facebook, Instagram, Twitter, Pinterest and LinkedIn is essential to engaging existing and new patients online.
RxMarketing will develop an effective social media strategy that includes setting up your social media pages and posting quality content that patients and prospects are excited about. We'll also advise your staff how to create posts and respond to followers in a way that drives leads.
Your social media presence has the power to:
Increase brand awareness.
Generate leads and new patients.
Boost new and existing patient confidence.
Build patient loyalty and referrals.
Raise patient retention.
Increase per-patient revenue.
Take Control
Take your social media to the next level with posts that start a conversation and create a personal connection with clients and prospects with our Canva integration. We have embedded the world's premier post creator directly into our platform.
Canva is the most widely used program for quickly and easily creating compelling posts that get noticed, direct visitors to your website, and result in sales. The integration allows you to get more personal with your audience sharing promotions, new hires, office parties and other happenings that allow people to feel a connection with your business.
The new Canva Scheduler is also embedded in our platform making it easy to drop multiple posts onto your calendar view and see engagement from past posts.
"It takes many good deeds to build a good reputation, and only one bad one to lose it. – "
– Benjamin Franklin
The good…
Automatically solicit positive reviews right after appointments while the excitement of your treatments is still fresh in your patient's mind. Swell–the leading software for online ratings and reviews–is integrated into AestheticNow and linked to your scheduling calendar. After appointments, an email and/or text message is sent to your patient asking them to rate the experience and leave a review. The management dashboard allows you to see all activity and reply to both positive and negative reviews directly in the software.
The bad…
By requesting reviews from your patients, you get alerted to a potential low evaluation before it is posted publicly. Negative reviews are sent directly to you so that you can reach out to the patient and correct the situation.
RxMarketing: OUTBOUND MARKETING
Increase New & Repeat Patients With Email Marketing
Promote Your Practice
RxMarketing's email automation system allows you to automatically send professional emails that keep your practice top of mind with patients and prospects at different stages of the patient journey.
The system uses the patient record to identify and track who receives the various email messages you create. You can also generate reports of your results.
Here are a few examples of how to use email marketing automation:
Follow up with "dormant" prospects and previous patients
Automate next-steps to your existing pipeline
Send follow-up messages post-procedure and ask for reviews
Increase revenue with promotional offers
Send educational messages about new and existing services
Demonstrate care and expertise with a monthly newsletter