End-to-End Aesthetic Software
Manage patient care, clinic operations and marketing in one place.
Orchestrate Success
Partner with us and harness the power of patient-centered digital marketing.
Be In the Know
Get a healthy dose of business & marketing advice from top industry experts.
See How PatientNow Can Improve Your Practice's Vitals
The Time for a Unified Clinic is Now
Efficient and Complete
From paperless forms and tracking inventory to converting new clients, billing and beyond, PatientNow has elective and aesthetic clinics covered. You'll find everything  to manage and grow your clinic from one single source.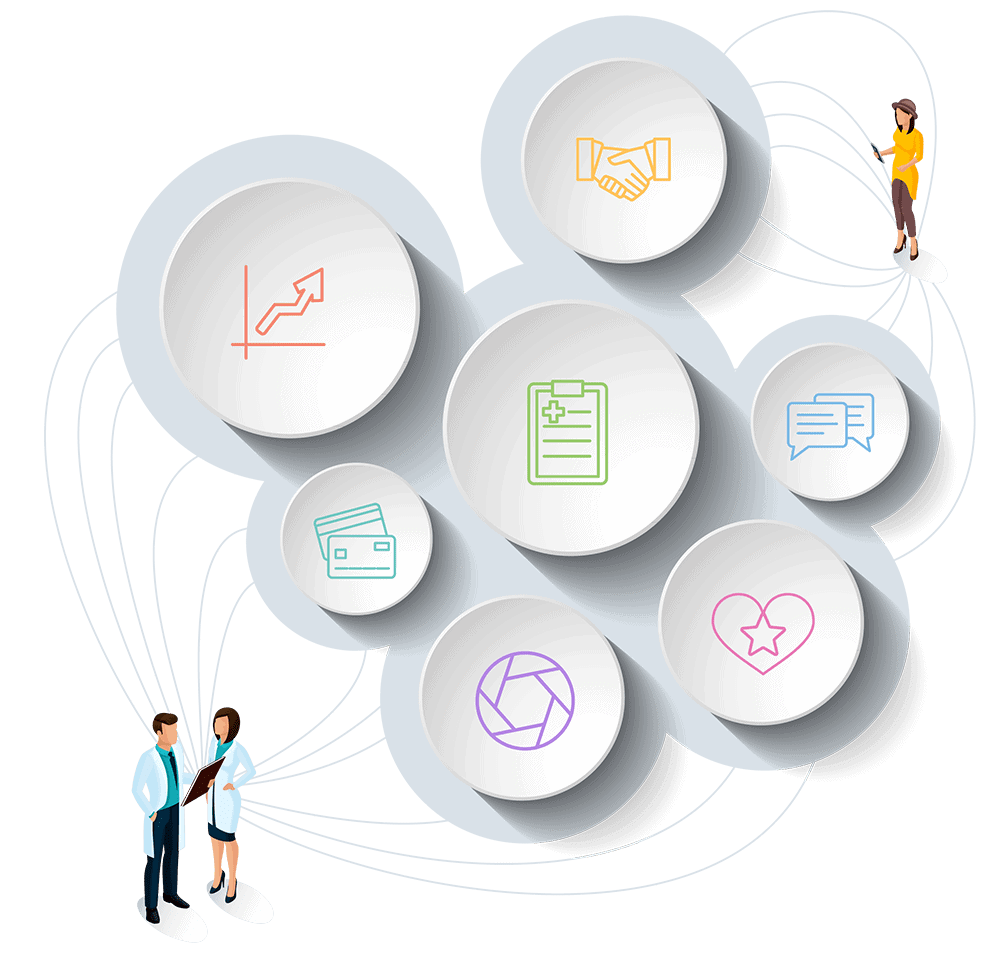 Ready to experience the efficiency and power of a single platform?
The time is NOW
Get All Solutions From One Company
EMR
CRM
Patient Record
Reporting
Barcode
Patient Engagement
Communication
Patient Portal
Membership / Loyalty
Marketing
Social Media Posts & Scheduling
Reputation Management
Email & Text Marketing
Practice Management
Scheduling
Document Management
Productivity
Financial
Reputation Management
Integrations
Reporting & Analytics
RxMarketing
Websites
SEO / SEM
Content
Social Media
Email Marketing
RxPayments
Integrated Payments
Inventory & PoS
Security & Compliance
Patient Financing
RxPhoto
Photography
Forms
Consultation
Before & After Gallery
RxPortal
Telehealth
Forms & Appointments
Education
ELECTRONIC MEDICAL RECORDS (EMR)

Focus on Patients Not Paperwork
Patient Record
All medical records, charts, forms, photos, videos, correspondence and clinical notes are conveniently stored together and accessible from any device.
Customer Relationship Management (CRM)
Patient information and communication from multiple sources is tracked and saved in one central location.
Reporting & Analytics
Get a clear picture of your clinic's operational productivity, revenue, patient behavior and other KPIs at a glance with scheduled and on-the-fly reports.
BarcodeNow
Quickly and easily convert your existing paper charts to electronic files. Each document will automatically be indexed to the correct patient's chart.
Streamline Your Operations With Our EMR Components
Because of PatientNow my retention rate for injectables has climbed from 50% to
75%
Peter Capizzi, MD
WE HAVE BEEN ABLE TO CUT DOWN ON HUMAN ERROR, AND HAVE REDUCED OUR PAPERWORK
85%
PHILLIP DAHAN, MD, CM, FACS
PART OF PATIENTNOW'S APPEAL STEMMED FROM ITS AFFORDABILITY. PATIENTNOW COSTS LESS BY
75%
HEIDI GILCHRIST, MD
AFTER JUST 180 DAYS OF USING PATIENTNOW, OUR RETENTION HAS INCREASED by
30%
DAN DENEUI, CEO EVEXIAS HOLDINGS
PRACTICE MANAGEMENT

Simplify Complex Clinical Operations
Smooth Operation
Our multi-functional, cloud software makes it easy to manage multiple clinic locations and multiple users from multiple devices. All of your practice management tasks and records are brought together and securely accessible from anywhere.
Effortless Insight
Financials, inventory, payments, productivity and reputation management can be analyzed quickly and easily in the reporting system. Gain real understanding and find time and money-saving efficiencies throughout your practice.
Explore Our Time-Saving Practice Management Components
PATIENT ENGAGEMENT

Engage Patients & Prospects Throughout the Patient Journey
Communication Enhances Patient Experiences
Creating meaningful relationships with patients and prospects is easy. The built-in CRM allows you to engage with new and existing patients via text and email before, during and after their appointment.
Plus, our Pathways feature lets you automate complex, multi-step processes, such as communicating with patients and prospects at the right time. This frees up your staff while ensuring important tasks are not missed or delayed.
Learn How to Enrich Patient Engagement With These Components
Let's take your practice
to the next level.
MARKETING

Modern Marketing That Gets Results
Patient-Centered Strategy
All marketing will be tailored to your practice with the intent of making meaningful connections with new and existing clients at every stage of the patient journey.
Maximize Exposure
Your website and social media will be built, coded and designed by top marketing experts who understand how to capture quality traffic that converts.
Custom Content
Content is king in the digital age. All content created by RxMarketing is written exclusively for your practice and targeted to reach your specific audience.
Reliable Expertise
Our team of experts is dedicated to supporting your practice with impactful digital marketing, top-notch service and consulting.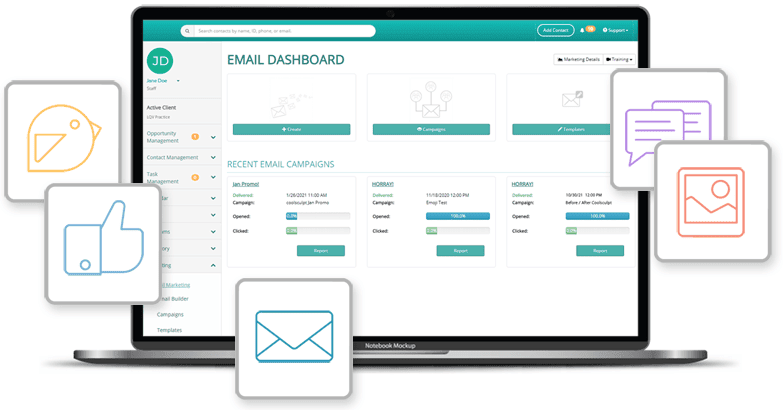 Experience Effective Marketing With Our RxMarketing Components
I have been using [RxMarketing] for over 7 years. In that time, my business has experienced a huge increase in overall efficiency, streamlined operations, and my practice revenue has more than doubled since.
Stanley Okoro, MD, FACS | GeorgiaPlastic.com
Thank you [RxMarketing], with your help we are able to retain 75-80% of the inquiries we receive, as compared to before when we were losing 45% of the patients who called or emailed for appointments.
Laura Sudarsky
It's never easy to change an existing marketing effort in the 'hopes' of doing even better, but that's what we did last Fall and we have been very pleased with the improvements RxMarketing has made for us.
Kristy Murrow, PA-C
After implementing PatientNow and their "recall feature", we saw an increase in returning patients. After just 190 days, we are seeing 70% return for another treatment! This has made a significant impact on our business.
Dan Deneui, CEO Evexias Holdings
One of the best capabilities is the tool to compare before and after pictures in order to see progress and results.
Lauren Martin, Miami FL
Everyone [at RxMarketing] that we have worked with has provided excellent customer service with great communication to ensure we're on the same page and happy with the direction we are taking.
Becky Larson
[PatientNow] paid for itself within the first 6 months in reduced transcription and clerical costs alone!
William Beeson, M.D. | Beeson Cosmetic Surgery
With RxPhoto, managing patient photos is no longer a time consuming chore. There is no need to upload and label photos, the software does it for my staff automatically.
Dr. Omar Fouda Neel, Montreal QB
I cannot say enough good things about Crystal Clear. I am opening a new med spa in a couple of weeks, and have been working with them for the past several months. I am already seeing results from their efforts & meaning my phone is already starting to ring.

Christina Imes
I like knowing our photos are secured from a state and federal standpoint. Without RxPhoto, it becomes a DIY process that becomes terribly time consuming.
Jeff Birchall, Carlsbad CA
PHOTOGRAPHY
Securely Capture, Store & Share Patient Photos & Videos
Consistency Matters
RxPhoto's on-screen guides, grids and templates ensure that any staff member can take perfect before photos. After photos are just as easy to align using grid and ghosting features.
Show Off
Reveal your patients' impressive results with photo slider, morphing and side-by-side images. Digital consent forms make it easy to get approval to showcase your great work to the  world.
Discover the Beauty of Efficiency With Our RxPhoto Components
PATIENT PORTAL

Expand the Scope of Patient Care
Contactless Communication
Enhance provider-patient relationships remotely with RxPortal. Enjoy the convenience and safety of telehealth visits and communicate with patients via secure, encrypted, text messaging.
Share Securely
Patients can sign forms, view medical documents, upload images, make appointments and access educational materials in a safe, secure environment.
Tap Into Convenient Care With These RxPortal Components
PAYMENTS

Capitalize on a Simplified Check-Out Process
Boost Sales With Built-In Features
PatientNow's integrated payment platform makes check-out a breeze with multiple payment options and tools to streamline the process. Our payment solution offers robust data security and is PCI compliant. Plus, highly competitive pricing means you're sure to get the best value.
Since the payment module is built into the PatientNow system, set up is a snap. The Clover™ Mini Point-of-Sale (PoS) device is sleek, easy to use and packed with features to help you increase revenue.
Cash In With Our Payment Components
The future of your practice is at your fingertips. What you do NEXT is critical.