Industry-Leading EMR
for Plastic Surgeons
Put Cutting-Edge Technology Into Practice
The most successful cosmetic and plastic surgery practices utilize state-of-the-art technology to provide exceptional patient outcomes. Running your practice should be no different, and PatientNow can help. Our comprehensive electronic medical records (EMR) software can dramatically improve the efficiency of cosmetic surgery offices while reducing errors and expenses. Existing paper charts are quickly converted to electronic files, complete with all images, signed consent forms, lab reports, prescription history, emails and faxes. All your patient records are organized intuitively in one location, and our plastic surgery practice management tools automate repetitive tasks and simplify processes, so you can spend more time caring for patients.
One Unified Solution
PatientNow is an all-inclusive solution that transforms your practice by streamlining your day-to-day operations. The platform synchronizes your patient records, photos, clinic management tools, marketing, communication and payments, so everything works together to enhance patient care and maximize your staff's productivity.
Features & Benefits
Practice & Patients
PatientNow is the industry-leading SaaS product, combining practice management and patient EMR solutions.
Engineered by the most-established technology provider for aesthetic practices, PatientNow has a successful track record of 10+ years of unparalleled service.
Fully Supported
Ease-of-use and peace-of-mind are the cornerstones of PatientNow. Our expert team is ready to provide you with the training, support and knowledge you need to get the most from our products.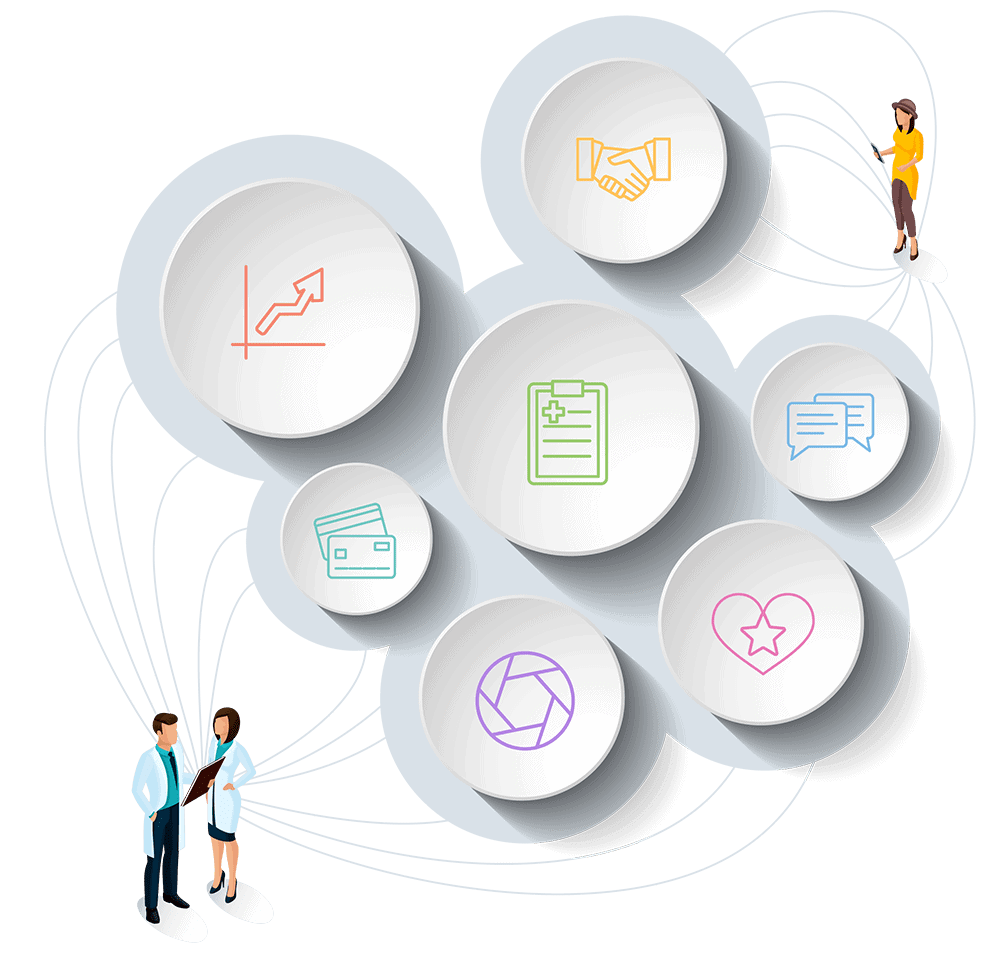 Convert & Retain
Building and maintaining relationships with all your customers on an individual basis is simplified and automated using customizable pathways. Never lose a lead or miss a follow-up with integrated email and texting.
Add RxMarketing to PatientNow for next-level marketing and customer engagement.
Let's take your practice
to the NEXT level.
Your Complete Practice Management Solution
PatientNow is a comprehensive solution designed to reduce your staff's workload, improve accuracy, securely manage patient records and boost revenue. The platform includes robust features, like appointment scheduling, paperless documents, task automation, reputation management, a PoS system, electronic prescriptions, HIPAA-compliant data storage, a patient portal, reports and more.
Get All Solutions From One Company
EMR
CRM
Patient Record
Reporting
Barcode
RxPayments
Integrated Payments
Inventory & PoS
Security & Compliance
Patient Financing
Practice Management
Scheduling
Document Management
Productivity
Financial
Reputation Management
Integrations
Reporting & Analytics
RxPhoto
Photography
Forms
Consultation
Before & After Gallery
RxMarketing
Websites
SEO / SEM
Content
Social Media
Email Marketing
RxPortal
Telehealth
Forms & Appointments
Education
Ready to see how PatientNow can TRANSFORM your
cosmetic surgery practice?