PatientNow
End-to-end EMR and practice management to
scale your practice.
Tap Into the Pulse of Your Practice
Complete Organization
Everything you need to streamline operations, securely manage patient records and increase revenue is organized in one central location.
Accomplish More
Designed to help your practice achieve peak performance, this comprehensive platform uses the power of automation to build staff efficiency and reduce errors.
Secure and Compliant
PatientNow protects all of your patient and clinic data in a secure, HIPAA-compliant, cloud server. Our payment processing system is PCI compliant, and our ePrescribe module meets all DEA requirements.
Personal Touch
Provide personalized care between visits with HIPAA-compliant text messaging and give patients secure access to their personal medical information, educational materials, documents and pictures.
Let's take your practice to the NEXT level.
Get All Solutions From One Company
EMR
CRM
Patient Record
Reporting
Barcode
RxPayments
Integrated Payments
Inventory & PoS
Security & Compliance
Patient Financing
Practice Management
Scheduling
Document Management
Productivity
Financial
Reputation Management
Integrations
Reporting & Analytics
RxPhoto
Photography
Forms
Consultation
Before & After Gallery
RxMarketing
Websites
SEO / SEM
Content
Social Media
Email Marketing
RxPortal
Telehealth
Forms & Appointments
Education
GET THE FOUNDATION, ADD POWER
Manage Centrally & Add Cool Apps
Add power and versatility to your package with these new products from PatientNow:
All marketing will be tailored to your practice with the intent of making meaningful connections with new and existing clients at every stage of the patient journey.
Your website and social media pages will be built, coded and designed by top marketing experts who understand how to capture quality traffic that converts.
Content is king in the digital age. All content created by RxMarketing is written exclusively for your practice and targeted to reach your specific audience.
Our team of experts is dedicated to supporting your practice with impactful digital marketing, top-notch service and consulting.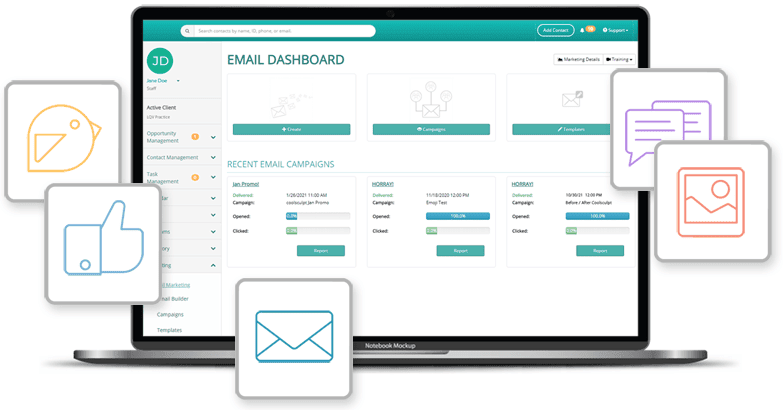 ---

RxPhoto's on-screen guides, grids and templates ensure that any staff member can take perfect before photos. After photos are just as easy to align using grid and ghosting features.
Reveal your patients' impressive results with photo slider, morphing and side-by-side images. Digital consent forms make it easy to get approval to showcase your great work to the  world.
---

PatientNow's integrated payment platform makes check-out a breeze with multiple payment options and tools to streamline the process. Our payment solution offers robust data security and is PCI compliant. Plus, highly competitive pricing means you're sure to get the best value.
Since the payment module is built into the PatientNow system, set up is a snap. The Clover™ Mini Point-of-Sale (PoS) device is sleek, easy to use and packed with features to help you increase revenue.
The future of your practice is at your fingertips. What you do next is critical.