State-of-the-Art EMR
for Dermatology Practices
Reduce Your Costs & Streamline Patient Records
Today's dermatologists succeed by keeping pace with the technological advances in their field. The PatientNow paperless, Electronic Medical Records (EMR) software is designed to dramatically improve the workflow of dermatology offices and allow significant customization and flexibility to meet the unique needs of any dermatology practice.

PatientNow can reduce your errors and expenses while allowing you to better manage your office and patients. The customizable EMR can mirror your current clinical workflow and automate many processes, giving you more time to focus on patient care.
A Single Solution
PatientNow is a comprehensive solution that unifies and simplifies your day-to-day operations. Your patient records, photos, clinic management tools, payments, marketing and communication are synchronized to maximize your team's productivity and return the focus to patient care.
Features & Benefits
Your Practice
Manage and administer your entire practice from a single, secure source, no matter where you are.
Comprehensive reporting lets you see the immediate positive results of unifying your entire operations.
Your Patients
Patient record keeping has never been easier in the PatientNow paperless environment.
Every note, chart, diagnosis, subscription and message is right there, on your laptop, tablet or phone.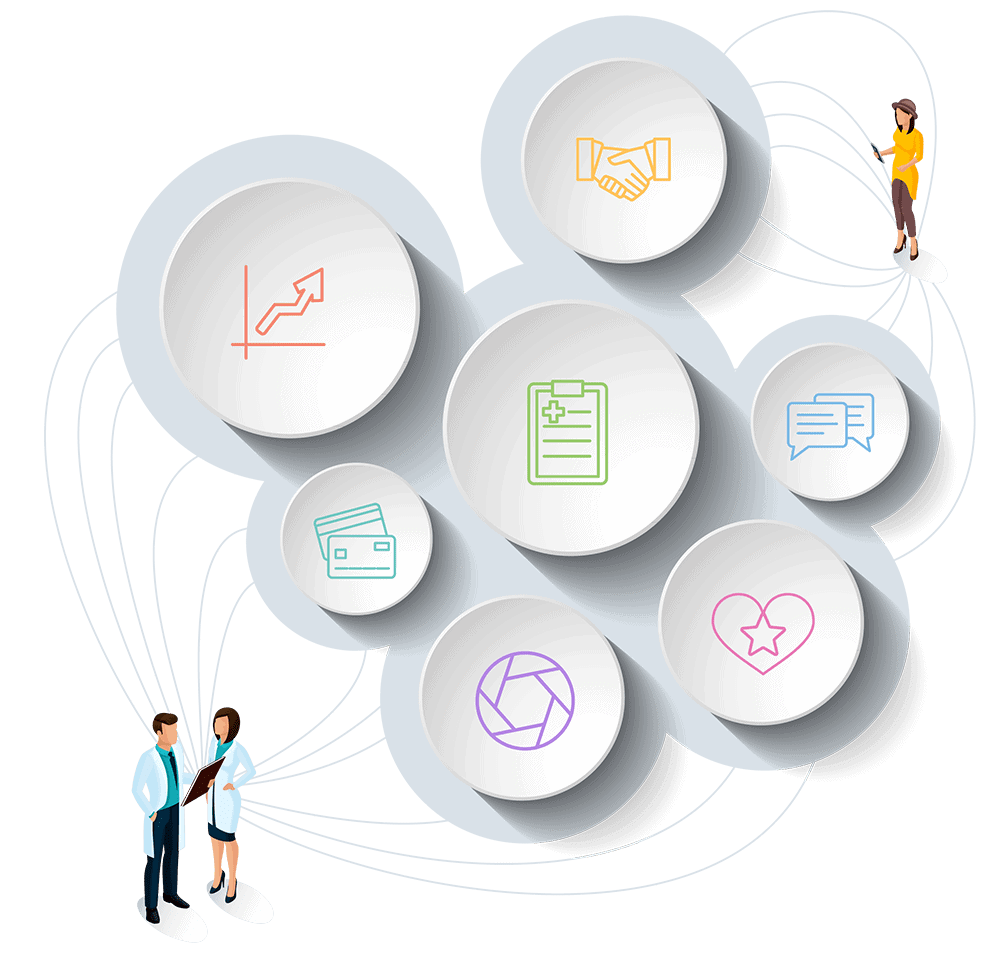 Your Relationships
Automate your workflow to streamline a consistent sales and follow-up process that generates more treatments and surgeries.
Satisfying your prospects' desire for information can be the influencing factor that makes your practice the right choice.
Your Revenue
PatientNow increases your revenue and profitability on all fronts.
In the office and with patients, the system constantly presents new efficiencies, quality control and relationship opportunities to give your practice solid, steady growth.
Let's take your practice
to the NEXT level.
Your Complete Practice Management Solution
PatientNow is a comprehensive solution designed to reduce your staff's workload, improve accuracy, securely manage patient records and boost revenue.
The platform includes robust features, like appointment scheduling, paperless documents, task automation, reputation management, a PoS system, electronic prescriptions, HIPAA-compliant data storage, a patient portal, reports and more.
Get All Solutions From One Company
EMR
CRM
Patient Record
Reporting
Barcode
RxPayments
Integrated Payments
Inventory & PoS
Security & Compliance
Patient Financing
Practice Management
Scheduling
Document Management
Productivity
Financial
Reputation Management
Integrations
Reporting & Analytics
RxPhoto
Photography
Forms
Consultation
Before & After Gallery
RxMarketing
Websites
SEO / SEM
Content
Social Media
Email Marketing
RxPortal
Telehealth
Forms & Appointments
Education
Ready to see how PatientNow can TRANSFORM
your dermatology practice?